My Blog
Posts for: June, 2021
By General Family Dentistry, Crown and Bridge, Endodontics, Emergency Appointments
June 17, 2021
Although dental care is our primary focus, we dentists are also on the lookout for other health problems that may manifest in the mouth. That's why we're sometimes the first to suspect a patient may have an eating disorder.
Eating disorders are abnormal dietary patterns that can arise from mental or emotional issues, the most common being anorexia nervosa and bulimia nervosa. Each has different behaviors: Anorexics abnormally restrict their food intake ("self-starvation"), while bulimics typically eat heavily and then induce vomiting ("binge and purge").
Although bulimics are more likely to binge and purge, anorexics may also induce vomiting. That practice in particular can leave a clue for dentists. While vomiting, powerful stomach acid enters the mouth, which can then soften and erode tooth enamel.
It's the pattern of erosion a dentist may notice more than the erosion itself that may indicate an eating disorder. A person while vomiting normally places their tongue against the back of the lower teeth, which somewhat shields them from acid. The more exposed upper teeth will thus tend to show more erosion than the bottom teeth.
A dentist may also notice other signs of an eating disorder. Enlarged salivary glands or a reddened throat and tongue could indicate the use of fingers or objects to induce vomiting. Lack of oral hygiene can be a sign of anorexia, while signs of over-aggressive brushing or flossing may hint of bulimia.
For the sake of the person's overall well-being, the eating disorder should be addressed through professional counseling and therapy. An excellent starting point is the website nationaleatingdisorders.org, sponsored by the National Eating Disorders Association.
The therapy process can be lengthy, so patients should also take steps to protect their teeth in the interim. One important measure is to rinse out the mouth following purging with a little baking soda mixed with water. This will help neutralize oral acid and reduces the risk of erosion. Proper brushing and flossing and regular dental visits can also help prevent dental disease.
An eating disorder can be traumatic for both patients and their families, and can take time to overcome. Even so, patients can reduce its effect on their dental health.
If you would like more information on eating disorders and dental care, please contact us or schedule an appointment for a consultation. You can also learn more about this topic by reading the Dear Doctor magazine article "Bulimia, Anorexia & Oral Health."
By General Family Dentistry, Crown and Bridge, Endodontics, Emergency Appointments
June 07, 2021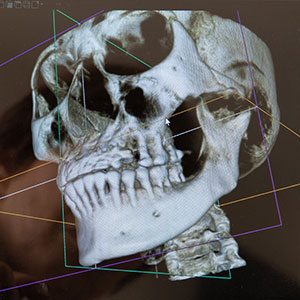 The mouth is a crowded place with nerves, blood vessels and sinus cavities sharing common space with the teeth and gums. Although important in their own right, these structures can also hinder treatment for complex dental situations like dental implant surgery or impacted teeth.
Treating these and similar situations depends on getting an accurate depiction of "what lies beneath." Conventional x-rays help, but their two-dimensional images don't always give the full picture. There's another way—cone beam computed tomography (CBCT).
Similar to CT scanning, CBCT uses x-ray energy to take hundreds of "sliced" images that are then re-assembled with special software to create a three-dimensional model viewable on a computer screen. CBCT is different, though, in that it employs a scanning device that revolves around a patient's head, which emits a cone-shaped beam of x-rays to capture the images.
A dentist can manipulate the resulting 3-D model on screen to study revealed oral structures from various angles to pinpoint potential obstacles like nerves or blood vessels. The detailed model may also aid in uncovering the underlying causes of a jaw joint disorder or sleep apnea.
CT technology isn't the only advanced imaging system used in healthcare. Another is magnetic resonance imaging (MRI), which excites hydrogen atoms in water molecules. This produces different vibration rates in individual tissue structures, which are then translated into detailed images of these structures. Unlike CT or CBCT, MRI doesn't use x-ray energy, but rather a magnetic field and radio waves to produce the atomic vibrations.
But while providing good detail of soft tissues, MRI imaging doesn't perform as well as CBCT with harder tissues like bone or teeth. As to the potential risks of CBCT involving x-ray radiation exposure, dentists follow much the same safety protocols as they do with conventional x-rays. As such, they utilize CBCT only when the benefits far outweigh the potential x-ray exposure risks.
And, CBCT won't be replacing conventional x-rays any time soon—the older technology is often the more practical diagnostic tool for less invasive dental situations. But when a situation requires the most detailed and comprehensive image possible, CBCT can make a big difference.
If you would like more information on advanced dental diagnostics, please contact us or schedule an appointment for a consultation. You can also learn more about this topic by reading the Dear Doctor magazine article "Getting the Full Picture With Cone Beam Dental Scans."