My Blog
Posts for tag: crowns
By General Family Dentistry, Crown and Bridge, Endodontics, Emergency Appointments
September 25, 2021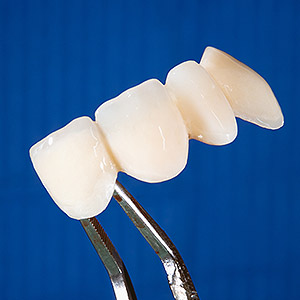 Our primary aim as dentists is to preserve teeth. There are times, however, when preserving a tooth is no longer worth the effort and we must recommend removing it. Fortunately, extracted teeth can be replaced with a functional and attractive restoration.
Today's top tooth-replacement option is the dental implant. Composed of a titanium metal post imbedded into the jawbone, a single dental implant can replace an individual tooth or a series of implants can support other restorations for multiple teeth. Besides being incredibly life-like, dental implants are highly durable and can last for decades.
But dental implants aren't an optimal choice for everyone. Their cost often matches their status as the premier tooth replacement method. And because they require a minimum amount of bone for proper implantation, they're not always feasible for patients with extensive bone loss.
But even if dental implants aren't right for you, and you want a fixed restoration rather than dentures, you still have options. What's more, they've been around for decades!
One is a bonded crown, which works particularly well for a tooth excessively damaged by decay, excessive wear or fractures. After removing all of the damaged portions and shaping the remaining tooth, we cement a life-like crown, custom created for that particular tooth, over the remaining structure.
Besides improving appearance, a crown also protects the tooth and restores its function. One thing to remember, though, is although the crown itself is impervious to disease, the remainder of the natural tooth isn't. It's important then to brush and floss around crowned teeth like any other tooth and see a dentist regularly for cleanings.
Dental bridges are a fixed solution for extracted teeth. It's composed of prosthetic teeth to replace those missing bonded together with supporting crowns on both ends. These crowned teeth are known as abutments, and, depending on how many teeth are being replaced, we may need to increase the number of abutments to support the bridge.
Although durable, crowns or bridges typically don't match the longevity of an implant. And, implants don't require the permanent alteration of support teeth as is necessary with a bridge. But when the choice of implants isn't on the table, these traditional restorations can be an effective dental solution.
If you would like more information on crown or bridge restorations, please contact us or schedule an appointment for a consultation. You can also learn more about this topic by reading the Dear Doctor magazine article "Crowns & Bridgework."
By General Family Dentistry, Crown and Bridge, Endodontics, Emergency Appointments
April 28, 2021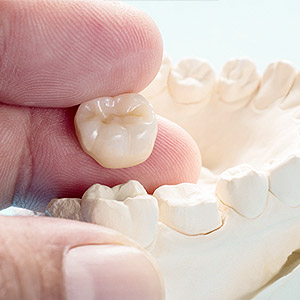 Millions of Americans rely on dental insurance to help them better afford dental care. Depending on the benefit package, an insurance policy can be useful in restoring dental health compromised by disease or injury.
But how life-like that restoration may appear is often a secondary concern with many insurance plans. For example, dental insurance will pay for a crown restoration that restores function to a tooth, but not necessarily of the highest aesthetic quality for achieving a truly life-like appearance.
To be sure, not all dental crowns are the same. Some are all metal, usually gold or silver. Some are "hybrids," made of an interior metal shell with an outer fused porcelain shell (porcelain-fused-to-metal or PFM). In recent years all -ceramic crowns made of stronger life-like ceramics have become the most popular.
The type of crown used will depend a great deal on the type and location of the tooth. Teeth on the back of the jaw that encounter greater biting forces and are not as noticeable in the smile may do better with a metal or PFM crown. Visible side and front teeth are more likely candidates for all-ceramic. Your dentist will give you your best options as it pertains to your dental needs and appearance.
There's also a difference in crown workmanship. Dental laboratories now use milling machinery that sculpts a crown from a single block of material. Although some final handwork by skilled technicians is still necessary, milling has streamlined the process—and the cost—for producing a crown of high functioning quality.
But crowns that achieve the most natural smile appearance require more in the way of artistic craftsmanship. This in turn can increase the crown's price—beyond what many dental policies agree to cover. You may then be faced with a decision: an insurance-covered functional crown with an acceptable level of life-likeness or a more life-like crown for which you may have to pay more out-of-pocket.
Your dentist can advise you on your best options for a crown restoration, also factoring in what your insurance will cover. Ultimately, though, you'll have to weigh the kind of smile you desire with your dental situation and finances.
If you would like more information on dental crown restorations, please contact us or schedule an appointment for a consultation. You can also learn more about this topic by reading the Dear Doctor magazine article "Porcelain Dental Crowns."
By Community Dental Services - James L. Steinhaus, DDS
April 25, 2019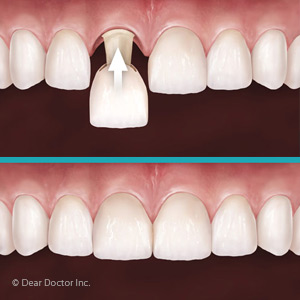 Restoring missing or unattractive teeth can often be a lengthy process. Months may elapse between initial teeth preparation and final placement to allow time for tissue healing and permanent crown manufacturing. During that period you will likely wear temporary (provisional) crowns to protect the teeth while improving function and appearance.
In the past, provisional crowns were fairly uniform. Today, though, there are provisional crowns available that conform exactly to a patient's individual mouth. These crowns not only enhance function and appearance, they're an excellent way to "try out" your new smile before the permanent restoration.
Customized provisional crowns are part of a concept known as "smile analysis." A new smile involves more than restoring affected teeth: we also consider the overall health of your mouth, the shape of your face, and your own desires and expectations. Your final smile design is a joint collaboration between you, our office and the dental laboratory that will fashion the final restoration.
There are a number of techniques for creating customized provisional crowns. Some techniques involve bonding tooth-colored materials like composite resin directly to the teeth. Others use impression models of your teeth to create an outline or shell that's filled with an acrylic material and then affixed to your teeth. The aim with any of these techniques is to produce a provisional crown that accurately reflects the final crown's appearance.
With these types of provisional crowns, we can see how the new teeth will look (their color, shading, shapes and proportions) against the gums, and if they appear to be in balance and harmony with the entire face, including your lips, jaws and facial contour. We can also evaluate how well the new teeth function as you chew, speak or smile.
It takes some extra effort to prepare customized provisional crowns rather than the more uniform version. But this effort is well worth it: by helping us anticipate more accurately how your new restorations will appear and function, customized crowns help ensure your new smile is an attractive and satisfying one.
If you would like more information on temporary restorations, please contact us or schedule an appointment for a consultation. You can also learn more about this topic by reading the Dear Doctor magazine article "Concepts of Temporary Restorations."