My Blog
Posts for tag: dentures
By Community Dental Services - James L. Steinhaus, DDS
December 21, 2019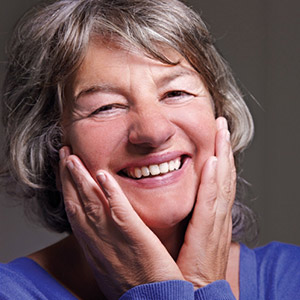 Think dental implants only replace individual teeth? Think again—this premier technology can also support other kinds of restorations to provide better stability and comfort. And, they also help improve bone health when incorporated with any type of tooth replacement options, especially dentures.
Although traditional dentures have enjoyed a long, successful history as a tooth replacement solution, they can interfere with bone health. That's because regular dentures fit in the mouth by resting on the bony ridges of the jaw, which has implications for the bone.
As living tissue, bone goes through a growth cycle with older bone cells dying and dissolving and newer cells forming to take their place. The teeth play a role in this growth cycle — the forces generated when we chew travel up through the teeth and help stimulate bone growth. When teeth go missing, however, so does this stimulus.
Traditional dentures can't replace this missing stimulus. In fact, the constant pressure of dentures on the jaw may even accelerate bone loss. A sign this is happening occurs when the dentures' once tight fit begins to loosen and they become uncomfortable to wear.
Implant-supported dentures can help eliminate this problem. We first surgically place a few implants in the jaw, the number determined by which jaw (the lower requires less) and whether the denture is removable or fixed. If removable, the denture has connective points that match the implant locations — you simply connect them with the implants. If fixed, the denture is screwed into the implants to hold it in place.
So, how does this help bone health? For one, the denture no longer puts as much pressure on the jaw ridges—the main support comes from the implants. And, the implants themselves encourage bone stimulation: The titanium in the implant has a special affinity with bone cells that naturally grow and adhere to its metal surface. This natural integration between implant and bone can stop bone loss and may even help reverse it.
If you're interested in implant-supported dentures, you'll first need to undergo a full dental exam with your dentist. These restorations aren't appropriate for all dental situations. But, if they can work for you, you may be able to enjoy the benefits of an implant-supported restoration.
If you would like more information on implant-supported restorations, please contact us or schedule an appointment for a consultation. You can also learn more about this topic by reading the Dear Doctor magazine article "Overdentures & Fixed Dentures."
By Community Dental Services - James L. Steinhaus, DDS
August 08, 2018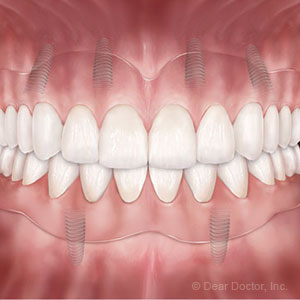 Not long ago, the most affordable option for total tooth loss was a removable denture. Dentures, prosthetic (false) teeth set in gum-colored acrylic plastic bases, can effectively restore function and appearance. But the appliance continues to have one major drawback: it can accelerate bone loss in the jaw.
Like other living tissues, older bone cells die and become absorbed into the body (resorption). Normally they're replaced by newer cells. The forces generated when we chew our food travel through the teeth to stimulate this new growth. This stimulus ends when we lose our teeth, and so cell replacement can slow to an abnormal rate. Eventually, this causes bone loss.
Removable dentures can't provide this stimulation. In fact, the pressure generated as they compress the gums' bony ridges can even accelerate bone loss. That's why over time a denture's fit can become loose and uncomfortable — the bone has shrunk and no longer matches the contours of the dentures.
In recent years, though, a new development has been able to provide greater support to dentures while at the same time slowing or even stopping bone loss. We can now support dentures with dental implants.
Implants are best known as individual tooth replacements: a titanium metal post replaces the root, while a life-like porcelain crown attaches to the post to replace the visible tooth. In addition to providing a longer-lasting alternative to removable dentures, implants provide a very important health benefit: they improve bone density because they mimic the function of natural teeth. Bone cells are naturally attracted to the titanium; they adhere to the titanium post and are stimulated to grow through the action of chewing, increasing bone density and securing the implant's hold in the jaw.
Using the same technology we can support removable dentures, or even full fixed bridges. Rather than rest directly on the bony ridges, a denture can make a secure connection through a coupling system with just a few strategically placed implants. We can also permanently attach a full bridge by fastening it to a few implants with screws.
Not only do we eliminate the pressure from dentures compressing the gums and bone tissue, we can actually stimulate bone growth with the implants. Although more costly upfront than traditional dentures, unlike traditional dentures which must be replaced every five to seven years, long-lasting implants may be more cost-effective over the long-run.
If you would like more information on implant-supported tooth replacement, please contact us or schedule an appointment for a consultation. You can also learn more about this topic by reading the Dear Doctor magazine article "New Teeth in One Day."
By Community Dental Services - James L. Steinhaus, DDS
June 09, 2018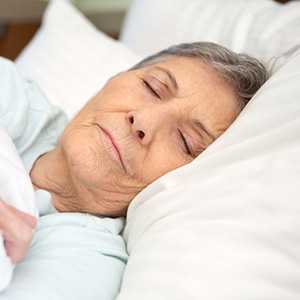 Perhaps you've heard the old saying: "Take care of your dentures and your dentures will take care of you." Well, maybe it's not that old—but it's still a sensible notion. Maintaining your dentures by routinely cleaning them and having them checked for fit will improve their longevity.
There's one other thing you should include on your maintenance routine—avoid wearing your dentures 24/7, especially while you sleep. This bad habit could lead to some unpleasant consequences.
For one, wearing dentures continuously can accelerate bone loss in the jaw that eventually causes your dentures to lose their comfortable fit. Bone loss is a natural consequence of tooth loss because the bone no longer receives the stimulation to grow transmitted by the teeth during chewing. Dentures can't transmit this stimulus; what's more, the pressure they place on the gums and underlying bony ridges could make bone loss worse. You can relieve this gum pressure at night by taking them out.
Dentures can also become a breeding ground for bacteria and fungi that cause disease, irritation and unpleasant mouth odors. Taking dentures out at night deprives these microorganisms of a prime opportunity to carry on business as usual—and it's also a great time to clean your dentures. People who sleep with their dentures in their mouth are more likely to have gum or oral yeast infections and higher levels of proteins produced by white cells that increase inflammation. That could contribute to other diseases throughout the body.
Besides taking your dentures out at night, you should also practice other daily hygiene tasks. Remove your dentures after eating and rinse them with clean water. Brush your dentures daily with a soft-bristled brush and dish or antibacterial soap or dental cleanser (no toothpaste—it's too abrasive for denture surfaces). Be sure you clean your gums and tongue every day too. When your dentures are out, store them in clean water or preferably an alkaline peroxide-based solution.
Removing your dentures at night and these other good habits will help extend the life and fit of your dentures. It could also help keep the rest of you healthy.
If you would like more information on denture care, please contact us or schedule an appointment for a consultation. You can also learn more about this topic by reading the Dear Doctor magazine article "Sleeping in Dentures: A Habit that Can Cause Health Problems."